Investments in Warehouse With Advanced Automation
Ekol commenced operations in Iran from a 30,000-pallet capacity facility as a result of warehouse investments in Qazvin. In 2017, Ekol plans to build a site which will launch an automated system in several stages, eventually building capacity to 100,000 pallets.
Qazvin to Become the Middle East's Logistics Hub
In Tehran, Ekol will focus on speed and delivery efficiency, utilizing a 10,000 square meter warehouse which will provide interim storage, transfer, and bonded warehouse services. The main goal is to transform Qazvin into the most advanced and highest capacity logistics hub in the Middle East, on the trade route between Turkey to Azerbaijan, by 2020.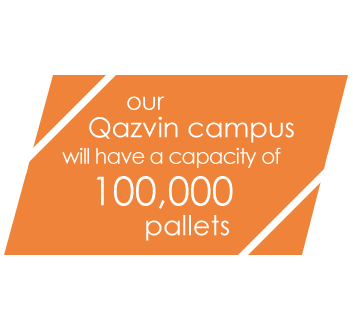 Excellent Services for Diverse Industries
Through this investment, Ekol will meet the demands of the FMCG, food, health, and cosmetic industries, which require stringent sanitary and temperature-controlled standards. The site will go above and beyond in satisfying security issues in consumer electronics, and fulfill expectations regarding quick transactions and inventory protection for those engaged with textiles, e-commerce, and vehicles.