Intermodal
Ekol utilized Ro-Ro ships to transfer its trailers and containers from the ports of Haydarpaşa, Alsancak and Lavrio to the Port of Trieste. Items are, next, forwarded, using unit train services, from Trieste to Cologne, Ludwigshafen, and Kiel.
Ekol offers intermodal shipping from Trieste to Munich, and from Cologne to Gothenburg, with a transportation network which has been expanded through mutual agreements with railway service providers.
Dedicated Block Train
Public Train
RO-RO
Ekol RO-RO Port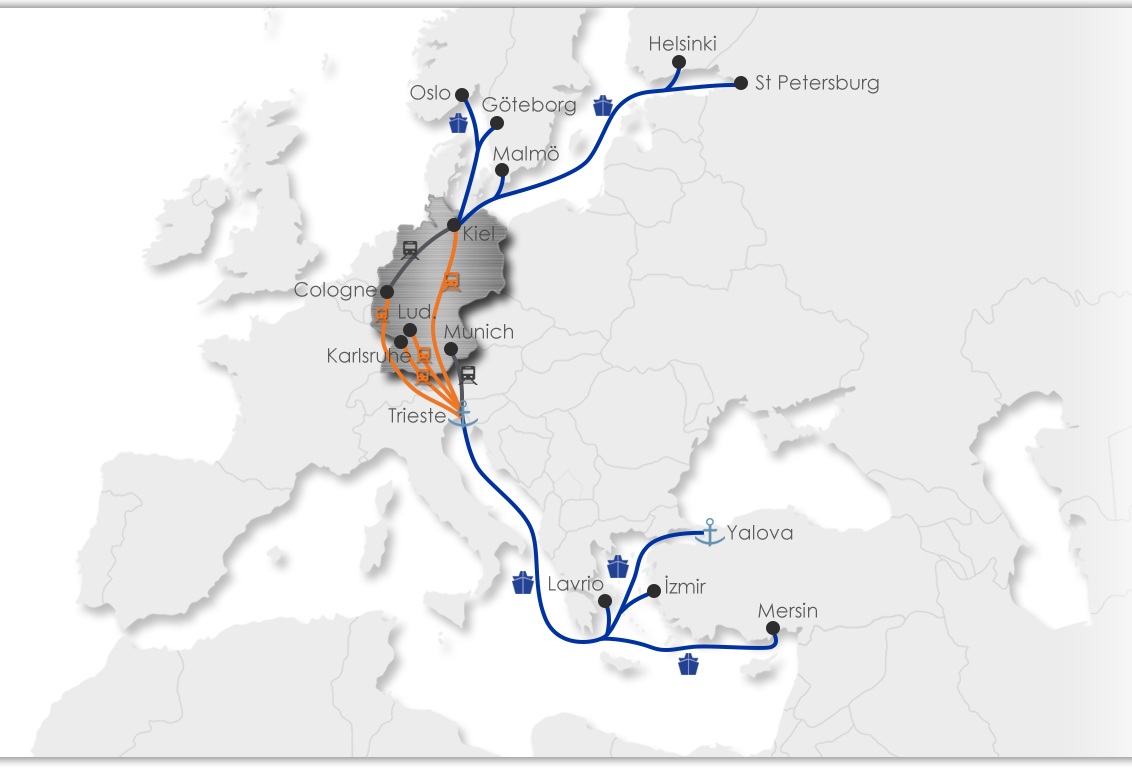 Ekol Logistics recently acquired a 65-percent share in Europa Multipurpose Terminals (EMT), the operator of the port it makes use of for its Ro-Ro and unit train services in Trieste, Italy. Subsequent to further investments, the port will be capable of handling two separate Ro-Ro operations simultaneously, and train loading capacity will grow to 10 daily trips. Currently providing services to Turkish and Greek Ro-Ro ships, the port will soon offer services to other countries as well – including Israel and Egypt.
How does intermodal work?
The containers and trailers which are transported on unit trains are unloaded in Germany. From there, they are taken by Ekol trucks to Germany's consolidation centers in Cologne, Ludwigshafen, and Kiel, or to another delivery point where they are prepared for export. Containers and trailers to be transported are taken to terminals by Ekol's German fleet.
Ekol Germany acts as a transportation bridge among European countries, and offers services utilizing its own fleet across Europe and Scandinavia. Thanks to Ekol's intermodal shipping options, Ekol Germany offers flexible and environmentally-friendly transportation solutions to its customers.