Warehousing
High Standard Storage Services
Ekol Hungary's Budapest location is very close to the city center, and situated in an area where railway connections can be capitalized on. As a result of these railway connections and the ramps and warehouses exclusively owned by Ekol Hungary, logistics involving large and high volume products can be easily managed.
In its warehouses, Ekol Hungary carries out temperature-controlled operations, e-commerce, and transportation involving heavy, high-capacity pallets.
Healthcare Logistics
Ekol Hungary can supply temperature-controlled warehouse from 5 to 15 and 5 to 25 degrees Celsius, as well as daily cross dock services. This facility meets Good Distribution Practice (GDP) and Good Manufacturing Practice (GMP) standards and flexible to allow the separation of products according to temperature range. With the help of a validated and qualified, temperature-controlled fleet we offer daily distribution services all over Hungary.
The facility is close to the Budapest city center and well-connected railways
Special loading ramps and a warehouse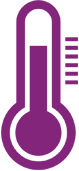 Temperature-controlled warehousing available at 5-15°C and 5-25°C