In 2015, Ekol Poland commenced operations, and presently renders services from offices in Sosnowiec, Poznań, Warsaw, Tychy and Wrocław.
Ekol Poland serves its customers with the assistance of over 130 employees, all highly experienced in transportation, logistics, and international delivery. The company operates on the behalf of its national and international customers utilizing the transportation management systems developed by the Ekol R&D team.
Ekol Poland offers intermodal solutions and an expansive service network, meeting the requirements of its customers with national and international road, rail, air, and sea transportation in addition to warehousing services.Ekol Poland offers also following services: storage of goods, handlings (pallets, boxes/pieces), VAS (for example: stickering, adding documents to parcels, labeling, repacking, adding price label label).

2015
10.000 m2
60+
Green Logistics and Social Responsibility
The environmentally conscious approach of Ekol Poland aims to leave a more livable world for future generations. It offers green logistics services with a EURO 6-compliant fleet to reduce its carbon footprint.
Furthermore, Ekol Poland collaborates with the Poznań University of Logistics to train environmentally aware specialists in the field.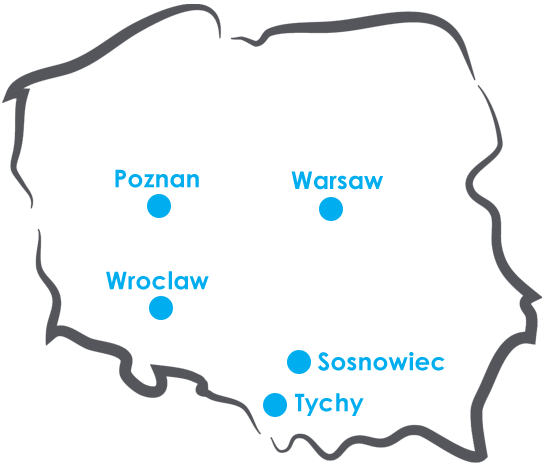 Poznan
PL-62-023 Koninko,
Składowa 4 St.
PL-62-023 Żerniki,
Składowa 4c
Sosnowiec
Tychy
PL – 43-100 Tychy,
Fabryczna 2 St.
Wroclaw
Ekol Logistics Sp. Z O.O.  Żmigrodzka
81-83, 51-130
51-130 Wrocław