Turkey
Ekol Turkey commenced in Istanbul in 1990 to offer customers a variety of services including transportation, warehouse management, customs clearance, and foreign trade and supply chain management.Its delivery centers are equipped with cutting-edge technology and eco-friendly fleets, and allow Ekol to render all types of internationally integrated services which the new economy calls for. The said services incorporate state-of-the-art intermodal and transportation equipment, and take advantage of a large warehouse with a capacity of 740,000 square meters and extensive cross-dock facilities.
In fulfilling its promises, Ekol derives greatest strength from its workforce and its powerful delivery network. A multinational team, dedicated to ensuring total customer satisfaction, plays a vital role in Ekol's success story.
1990
800+
740K m2
120+
3500+
Industry-Specific Solutions
Ekol is aware of the fact that every industry has specific logistics requirements. We offer tailor-made, integrated logistic solutions to the automotive, FMCG, healthcare, retail, textile, production, and e-trade industries.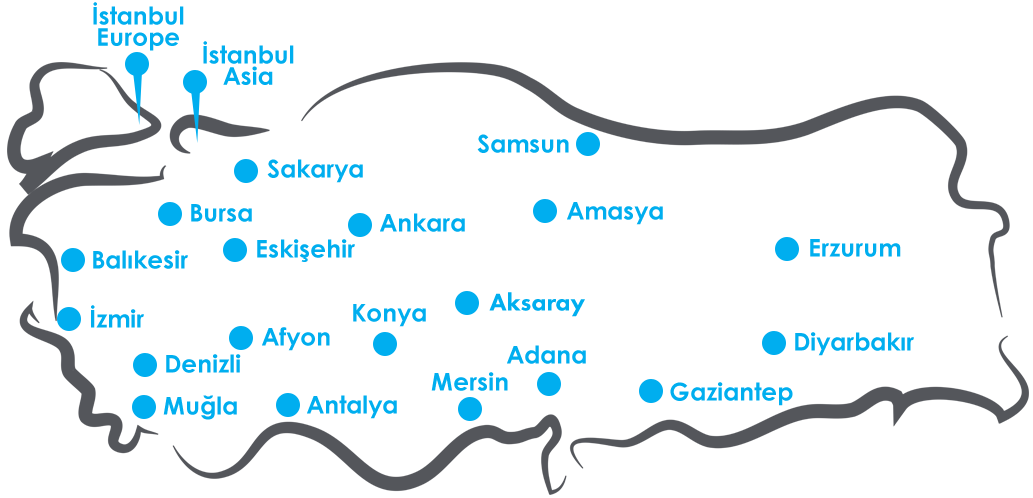 Please click on the location names for Google maps.
İstanbul / Anatolian Side
Headquarters: Kardelen Facility – Ekol Caddesi No:2 TR-34935 Sultanbeyli / +90 216 564 30 00
Lilyum Facility: Akse Mah. Nazım Hikmet Cad. No:12 TR-41420 Çayırova / +90 216 564 3000
Lotus Facility: Şekerpınar Mahallesi, Fevzi Çakmak Cd. No:100, 41435 Çayırova / +90 216 564 3000
Nilüfer Facility: Akse Mah. Nazım Hikmet Cad. 534. Sk. No:6 TR-41420 Çayırova / +90 216 564 3000
Sancaktepe Office: Eyüp Sultan Mah. Mehmet Akif Ersoy Cad. No:3/A Kat:2 TR-34885 Samandıra Sancaktepe / +90 216 564 3000
Sakura Facility: Şekerpınar Mahallesi Yudum Sokak No:6 Kat:2-3 TR-41420 Çayırova / +90 216 564 3000
Yonca Facility: Güzeller Organize Sanayi Bölgesi Farabi Cd. No:1 TR-41400 Gebze Kocaeli / +90 216 564 3000
İstanbul / European Side
Global Forwarding: EGS Business Park Blokları Yeşilköy Mah. Atatürk Cad. No:12/1, B2 Blok Kat:17 No:472 34149 Bakırköy, İstanbul / +90 216 564 3000
Orkide Facility: Hastane Mahallesi Hadımköy-Nakkaş Yolu Caddesi No:15 TR-34276 Arnavutköy / +90 212 771 46 60
Ankara
Lavanta Facility: Bahçelievler Mah. 30 Ağustos Cad. No:10 TR-06780 Elmadağ / +90 312 864 0436
Melissa Facility: Bahçekapı Mah. 2681. Cad. No:2 TR-06790 Şaşmaz-Etimesgut
İzmir
İzmir Branch: 1479 Sokak Kristal 2 İş Merkez No:15 Kat 1 D: 1-2 TR-35220 Alsancak / +90 232 465 2030
Pınarbaşı Branch: Yunus Emre Mah. 7524. Sok. No:6 TR-35060 Pınarbaşı-Bornova
Zambak Facility: Sütçüler Köyü Kabakçeşme Mevkii 19 Parsel TR-35730 / +90 232 887 1684
Bursa
Gül Facility: Minareliçavuş Mahallesi Alkanlar Sokak No:14 Nilüfer TR-16140 / +90 224 261 2111
Adana
Adana Branch: Yavuzlar mah kışla cad no:291/A TR-01220 Yüreğir
Nergis Facility: Yenidoğan Mahallesi Büyük Toptancılar Sitesi 1 Blok 71/A TR-01310 Yüreğir / +90 322 346 7463
Afyon
Afyon Branch: 2. Küçük Sanayi Sitesi 31. Ada 1. Blok No:52 TR-03000 Afyonkarahisar
Aksaray
Aksaray Facility: Aratol Bahçeli Mahallesi 9107. Sokak No: 6/1 TR-68000 / +90 382 216 0869
Amasya
Merzifon Branch: Sivil Havalimanı Yolu Üzeri Bahçecik 1. Km TR-05302 Merzifon
Antalya
Antalya Branch: Sinan Mah. Yunus emre cad. Göktürk Sok.No:30 TR-07170 ALTINOVA / KEPEZ
Balıkesir
Balıkesir Branch: S.S.Yeni Sanayi Sitesi 12 Ekim Cd. No:121 TR-10020
Denizli
Denizli Branch 1: Ankara Yolu 9. Km 240. Sokak No:7 TR-20155 Akkale Akhan / +90 258 274 67 56 / +90 258 274 67 61
Denizli Branch 2: Ankara Asf.Üz. 10.Km. Marketix yanı No:197 TR-20155
Diyarbakır
Diyarbakır Branch: Siverek cad. Bağcılar mah. No:67 Gündem Ticaret içi. TR- 21090 Kayapınar
Eskişehir
Eskişehir Branch: Emko Sanayi Sitesi D Blok No:2/3 Eskişehir Girişi TR-26110 OSB-Odunpazarı
Erzurum
Erzurum Branch: Tortum Yolu Üzeri,Toptancılar Sitesi, A blok TR-25100 Hilalkent
Gaziantep
Gaziantep Branch: Sanayi Mah. Anafartalar Bulvarı. No:184 TR-27110 Şehitkamil
Konya
Kozmoz Facility: Büyükkayacık Cad. 14331 Sk. 5. Organize, Konya Organize Sanayi TR-42250 Selçuklu / +90 216 564 3000
Mersin
Akdeniz Branch: Yeni Mh. İsmet İnönü Bulvarı No:66 Prestij Plaza Kat:7 No:13 TR-33050 Akdeniz / +90 324 237 5499
Muğla
Muğla Şube: Cumhuriyet mah. Cengiz Meral cad. No:5 TR-48040 Bayır
Sakarya
Sakarya Branch: Erenler Mah. 255. Cad. 1268. Dok. 47/A TR-54200 Erenler
Samsun
Samsun Branch: Kirazlık mah. Çayçiçeği sok. No:9 TR-55330 Tekkeköy
Yalova
Yalova Ro-Ro Port: Merkez Mh. Yalova – Kocaeli Cad.  No:4/1 TR-77040 Taşköprü Çiftlikköy, Yalova / +90 216 564 3500
Nar Facility: Merkez Mh. Yalova – Kocaeli Cad.  No:4/1 TR-77040 Taşköprü Çiftlikköy, Yalova / +90 216 564 3500