Ekol Continues to Expand in Scandinavia
Ekol Logistics, in collaboration with Greencarrier Freight Services, a Sweden-based company, is aiming to provide a wide scope of services to its customers for their logistics service needs between Baltic countries and Turkey.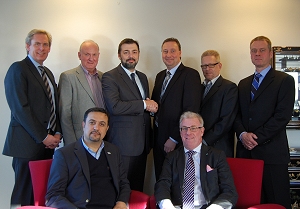 Ekol Logistics, one of the most highly integrated logistics company in Turkey and Europe, continues its operations to provide fast and quality services to its customers in every corner of the world by signing a new agreement. Ekol Logistics has gone into collaboration with a Swedish freight forwarder company, Greencarrier Freight Services, in order to provide more effective services for its customers' transportation needs between Baltic countries and Turkey.
Greencarrier Freight Services, founded in Sweden in 1994 and having been specialized in global transport solutions, is today the largest private equity company in Scandinavia among the freight forwarder companies. Greencarrier Freight Services, with its 650 employees, provides services in 10 countries located in different parts of the world, comprising Denmark, Norway, Finland, Estonia, Ukraine, Sweden, Lithuania, Latvia, England and China.
Ekol, which acquired STS International Transportation, the leader company in Scandinavian Line, in 2010, has confirmed its leadership in that line by reaching an agreement with Greencarrier Freight Services so that it would grow stronger in Baltic countries.
Within the scope of the agreement covering Sweden and Baltic countries, Ekol, apart from the land transport, will also provide its customers in the Scandinavian line its intermodal solutions, with which it seized the leadership both with the volume and the quality and the cost within the region. Customers of Ekol Logistics will be able to track their freight at all stages moment to moment through the most advance "track and trace" system of the industry provided in this line as in all other countries.
Sait Kurtuluş, Director of Scandinavian Line of Ekol Logistics, said:
Baltic countries and Scandinavian line is the one of the regions where Ekol is recently expanding rather rapidly. We will strengthen our leadership in this area more with this new agreement.