Ekol Installs The Largest Rooftop Solar Power Plant in The Logistics Industry
Continuing its energy investments in line with the carbon-neutral targets of the European Union's Green Deal, Ekol has commissioned the largest solar power plant (SPP) investment to be installed on a single roof in the logistics industry. At the rooftop solar power plant installed in Lotus, a green facility that boasts Europe's largest storage area, 6,200 mWh of energy will be generated in the first year, which will be equivalent to the annual electricity consumption of 2,400 households.With Lotus SPP, which was built on an area of approximately 40,000 square meters, Ekol has become the first company in the industry to install panels of this size on a single roof.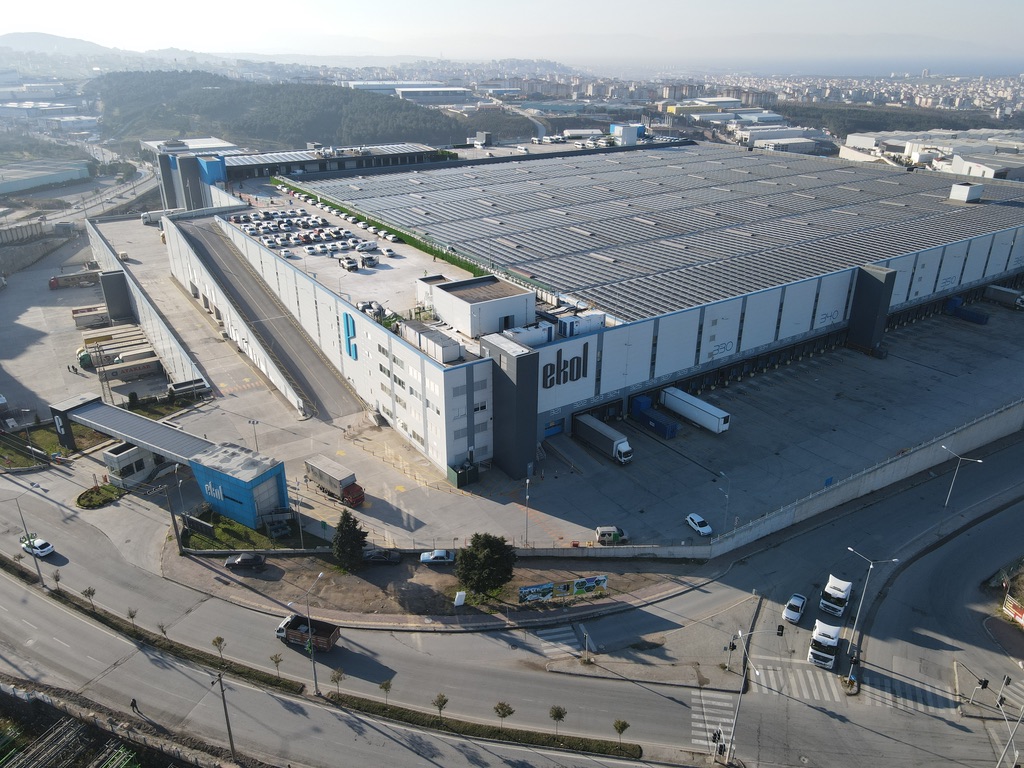 With this solar power plant, the Lotus Facility can meet 70 percent of its energy needs from the sun, the biggest renewable energy source of all. The investment will reduce 3100 tone kg of CO2 per year, which is equivalent to planting 140,000 trees. 
The Lotus Facility Solar Power Plant boasts a total installed capacity of 5,589 kWp. Of this entire capacity, 4.8 percent or 270 kWp will be obtained with the solar panels installed above the carport, while 1.3 percent will be obtained with the solar panels installed on the lean-to roofs on the walkway canopy. 
SPP Investments Will Continue
Pointing out that Ekol is setting an example for many companies in and out of the industry with its SPP investments and installations, Ekol Turkey Country Manager Arzu Akyol Ekiz said:
The project was completed in about a year with the installation of the first stage main roof area panels and the second stage carport-walkway canopy area panels with an approximate investment cost of $4 million. The investment is expected to pay for itself in less than seven years. A designated amount of the energy generated will be used for self-consumption as required in line with the facility's instantaneous needs. Any excess energy will be transferred to the grid for offsetting. In doing so, the facility is expected to save approximately $550,000–$600,000 per year in electricity costs.
Drawing attention to the fact that Ekol is a company that invests in technological developments and protects the ecosystem with its investments in renewable energy, Ekiz continued:
Our goal for this year is to start generating 1,600 MWh of energy annually with the solar power plant that will boast an installed capacity of 1,345 kWp at our Ankara Lavender Facility. We are continuing these efforts for our Yalova facility. We are planning to make investments for all our facilities with roof statics that allow for the installation of SPPs and ideal environmental conditions. We are doing our best to achieve a sustainable world with our facility investments and transport models. With intermodal transportation, which is a sustainable business model that contributes to the low-carbon economy, we have successfully reduced our carbon emissions, achieving a total of 438,000 cubic meters of fuel efficiency and preventing the emission of 658,000 metric tons of CO₂ over the last 10 years. Each month, we curb the consumption of fossil fuels equivalent to a forest the size of 700 soccer fields and which could be used for 350 tours around the Earth.
In line with the European Union's Green Deal, Ekol aims to be carbon neutral by 2030 by reducing its absolute emissions (Scope 1-2-3) by 55 percent compared to 2020, and by reducing the total emissions caused by its vehicles operating in Europe by 75 percent by 2050.