Ekol Logistics Continues With Environment-Friendly Fleet Investment
The leader of Turkey's logistics industry, Ekol Logistics continues to strengthen its environment-friendly fleet by buying 50 Mercedes-Benz Actros model tow trucks.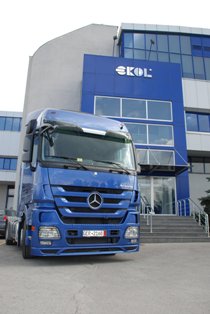 With the agreement concluded with Koluman Motorlu Araçlar Ticaret ve San. A.Ş., Ekol Logistics added 2011 model 50 Mercedes Actros tow trucks to its fleet and increased the number of vehicles in its fleet to 1.150. The tow trucks with ADR certificate, specially designed for Ekol Logistics with metallic violet blue color and special equipment, have Mega Space cabin and Euro 5 standards.
Stating that they are aiming to constitute the entire fleet with environment friendly and EURO 5 standard vehicles, Umur Özkal, Ekol Logistics General Manager, said;
We have completed the first part of 280-vehicle investment, which we are planning to buy as tow truck and trailer until the end of 2011. Actros is a model which we have experienced the quality before. The environment-friendly tow trucks, offered by Mercedes and equipped with high technology, add value to our fleet and support increasing the service quality of Ekol.