Ekol Logistics Recieves Award of Respect For People
The human resources platform Kariyer.net's traditional Awards of Respect for People found their winners on 16-17 February 2011. At the ceremony, Ekol Logistics was found worthy of the Award for Respect for People in its sector.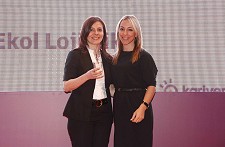 The 10th Awards for Respect for People by Kariyer.net, Turkey's biggest human resources platform bringing jobs and people together, were given to their winners. In the Awards for Respect for People, organized to promote successful efforts in the area of human resources and to share them with the public, a total of 62 firms from 23 sectors were found worthy of the award this year.
The awards were delivered to their winners in a ceremony held on the first of the 16th Human Resources Summit which took place on 16-17 February 2011 at Lütfi Kırdar Culture and Congress Centre.
As a result of the assessment made by Kariyer.net among 942 companies receiving 10,000 applications, Ekol Logistics was found worthy of the Award of Respect for People due to its careful attention in 2010 with regard to "specially answering applications by candidates and providing a timely response". The award to Ekol Logistics was received by Mrs Özlem Akbostancı, Officer in Charge of Selection, Placement & Progress Evaluation.
Ekol Logistics Human Resources Assistant General Manager Levent Terzi, stating that they were pleased to be rewarded for the value attached by Ekol to people, said:
According to our Human Resources Policy, we believe that people are the most valuable asset of a company. In this direction, we conduct our work under the principle of rapid, effective and healthy communication both with our employees and with candidates applying to join us. We are greatly happy that our efforts are rewarded in this way.