Ekol Was At Pharma Outsourcing Conference
Pharma Outsourcing Conference which was also sponsored by Ekol, took place on 4thJune 2012 at Point Hotel Barbaros.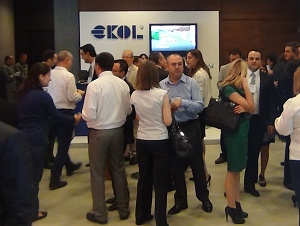 Pharma Outsourcing Conference, organized by Novomed360 on 4thJune 2012, aimed to bring up examples of productive cooperation in the health sector. Ekol Logistics Health and Food Sector Manager Bilal Uzun and Universal Hospitals Group Assist. to General Manager made a presentation titled "New Business Models – Logistics and Journey of Access to Medicines" within the conference which brought together pharmaceutical and healthcare industry professionals and companies providing services to pharmaceutical industry. Conference, which was organized to discuss the real success stories and cases, was very successful.